This is the one for the show ponies! Your chance to anchor your team home to a glorious finish as the last leg of the day brings you back near the Rotorua Lakefront, at the Village Green.
From Puketawhero Park, head right on to Vaughan Road to join up with Te Ngae Road. A super wide footpath takes you in front of the Sudima Hotel and down Hinemaru Street to Whakaue Street. Turn into Memorial Drive and follow the entrance to Rotorua's Lakefront reserve. Turning on to the Village Green just before the Volcanic Playground where your team mates will be waiting to join you for the final 100 metres to the finish line.
Congrats! You just ran (part of) a marathon!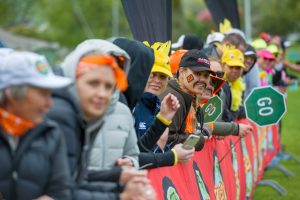 IMPORTANT GUIDELINES FOR CHANGEOVER POINTS
It is your responsibility to take the upmost care of yourself and those around you. While the changeover points are a lot of fun, you must adhere to the following guidelines:
Team drivers MUST enter, park and exit the changeover vicinity slowly and safely. Concentrate on the road and those around you, not the event.

Team members, watch out for other cars when you exit or enter your vehicle – you are not bulletproof!
| Leg | Distance | Locations | Terrain |
| --- | --- | --- | --- |
| Leg 1 | 7.50 | Novotel Rotorua Lakeside to Ngongotaha Domain | Flat |
| Leg 2 | 7.88 | Ngongotaha Domain to Hamurana | Rolling hills |
| Leg 3 | 8.43 | Hamurana to Marama Resort | Long flats, some steep hills |
| Leg 4 | 9.27 | Marama Resort to Airport | Long flats, some hills |
| Leg 5 | 3.24 | Airport to Puketawhero Park | Flat |
| Leg 6 | 5.88 | Puketawhero Park to Rotorua Village Green | Flat |